Collectibles and Knife Care Accessories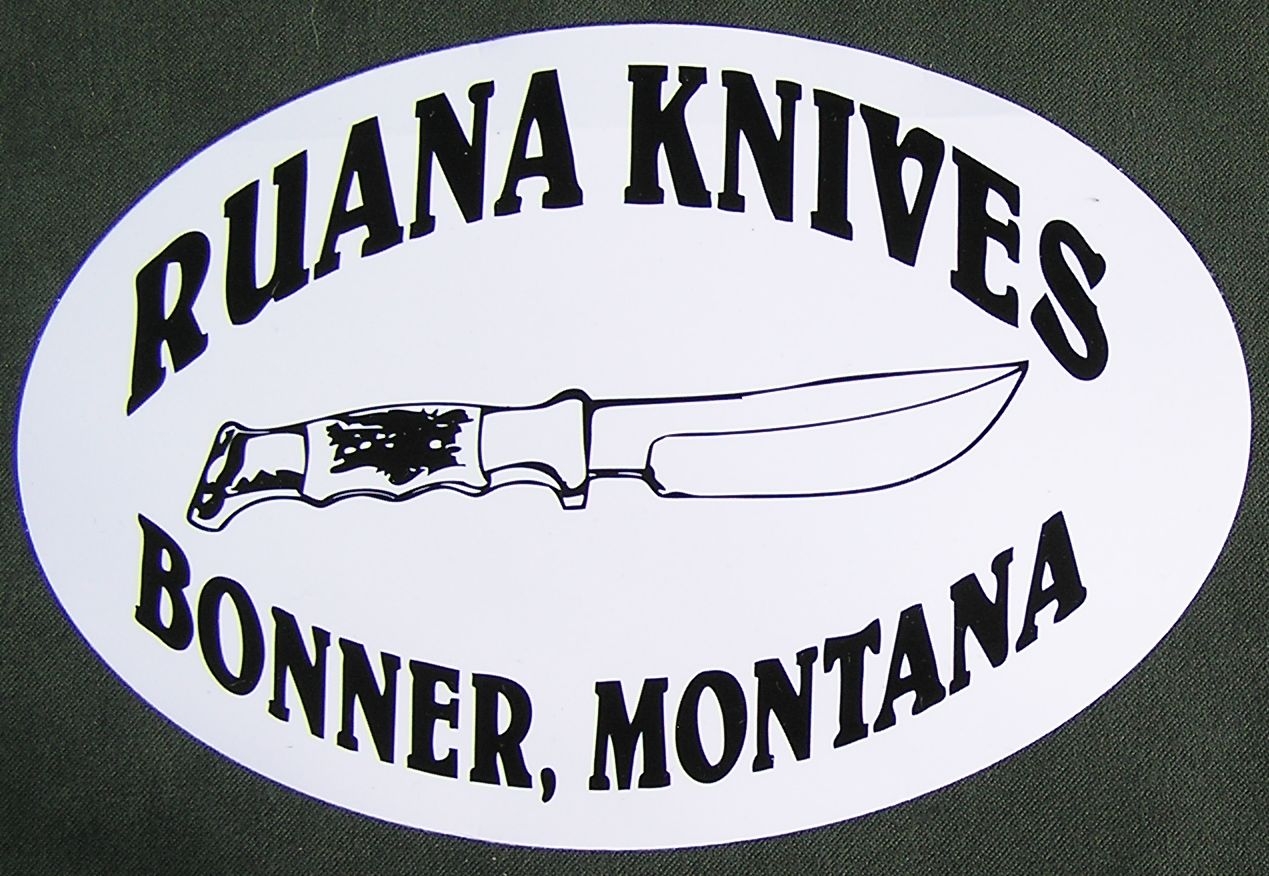 Ruana Knives - 4" x 6" decal with adhesive back for bumpers, windows, etc.
Prices -
$3 sold separately
$2 with knife purchase, limit two per purchase
Ruana and Montana Key Fobs
Show your Ruana Knives and Montana pride with this sturdy leather key FOB. Comes with grommet and key ring. Available in both Montana and Ruana style.
Prices-
Ruana Fob:
$6 sold separately, $4 with knife purchase, limit two per purchase
Montana Fob:
$3 sold separately, $2 with knife purchase, limit two per purchase
STROP (Ruana Strop) - Handmade, 19" leather strop with old Ruana sheath stamp for collectability. Just like the barber shops use to take the wire edge off of blades and create a scary sharp edge. $25
FPC (Flitz Microfiber Polishing Cloth) - 16" x 16" microfiber polishing cloth removes dust, dirt and fingerprints from your Ruana Knives and other valuables. Washable and reusable up to 500 times. $8
FLITZ (Flitz Metal Polish) - Cleans, polishes, and protects virtually all metals. A fine complement to our knives and the maintenance of knife blades, and brass handles. One 1.76 oz. (50 gram) tube will provide numerous applications. $12
MPB (Montana Pitch Blend Leather Dressing) - A superior all natural water repellent leather dressing that combines pine pitch, mink oil, and beeswax. Great for protecting a variety of leather products against wet elements and also prevents leather from drying out. Highly recommended if you'll have your sheath outdoors. Available in 4 oz. container. $8
STEEL (Diamond Steel) - Classic steel for touching up any knife. Fine diamond grit creates a long lasting sharp edge. $50
DMA (Diamond Mini Sharp Angler) - Coarse grit compact stone that will fit in a shirt pocket and includes a groove for sharpening fish hooks. $16
DDSX2 (Double Sided Diafold) - Two stones in one. Same as Dialfold stone with coarse grit on one side and fine grit on the other. $40
CSS (Collector's Sharpening Stone) - In conjunction with Diamond Machining Technology (DMT®) we are offering the Ruana Knife Collector's Sharpening Stone. This is the same high quality, Made in America, bench stone that we've offered for several years, but it's now available with our logo handsomely engraved on a beautiful hardwood display case. This must item for any Ruana Knife collection is available in a 6" x 2" stone offered in a coarse grit that we like to use on Ruana Knives for a working, field edge. Every hand crafted Ruana Knife is sharpened on an identical DMT® stone, which we believe is the best product on the market. $80 sold separately, $70 with knife purchase, limit two per purchase
DBS (Diamond Bench Stone) - Coarse grit diamond stone in plastic storage box with non-skid feet and easily mountable base. Favorite in our shop that is used to sharpen every blade we make. $50